Went surfing in sunway lagoon last Saturday. entrance 55 ringgit, 10 ringgit refundable. Body board rental 30 ringgit , 20ringgit refundable, surf board 50 ringgit, 30 ringgit refundable.
Body board surfing starts at 3-4pm while surfing starts at 530-615. We reached about 1-2+ and chill by the "beach" hut. Tried body board and it is a lot easier to catch wave than the surfboard.
Body board surfing was about 2-3 waves like 15minutes, then it started to rain and we got our refund back.
Chilled by the beach hut again. When its time for surfing I was nervous like body surfing . But this time even more , i dunno why.
First two wave my friend Cliffton pushed me and i got the feeling of flying and tried to stand on the board the second time, only for a while and i lost my balance.
The rest of the waves, I was drowning all the way.....I couldnt paddle correctly to the speed to match the wave speed. Most of the time I lost my balance and it went to left direction and I started to get nervous as my friend told me i shouldnt be blocking the rest as they will split to right or left...
I guess I have a lot to work on before I can catch the wave on my own...
Life guard trying out surfing while some customer trying to feel the wave.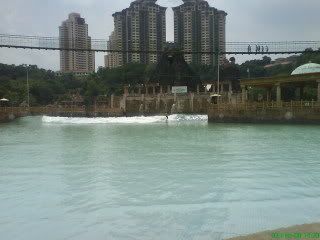 Life guard surfing.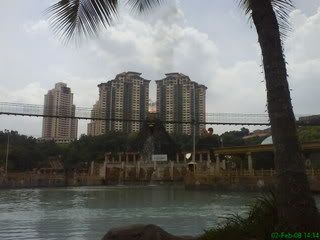 Fire from the pyramid lion head.