This chinese new year has been a fruitful one.
Manage to see many relatives and old friends.
Especially friends from overseas....college friend...secondary school friend...and long lost contact secondary school friend...
And lastly...the drunken nights throughout the new year were excellent with close friends/long lost friends/reunio friends.
Had my reunion dinner at my aunt house in Kepong dishes are photos below.
My favourite bak zham gei, steam white chicken. The chicken is from my aunt's back yard. No injection nor genetically altered food fed to the chicken! Yummy!
Old style onion soya sauce. Yum...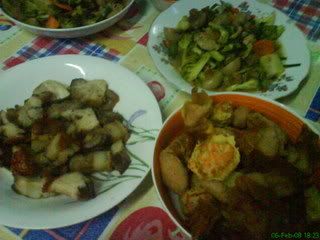 BBQ pork, fried wantan, and veges.