The weekend has been fruitful one. I managed to eat hakka mee near lowyat plaza and teh si ice the same restaurant i used to go. Facing lowyat there is a Kiosk convenience store on the left , first shop on the right of that row of shop is where the restaurant is.
The mee if not mistaken is self made by that restaurant. I like it because it mee is "spongy", only has oil a bit salt. Unlike ordinary dry noodle. Some may dislike its taste because its oily. THe mee will not be as tasteful as I like it , if it is not added with the chili that comes with it.
The teh si ice is special because they are like the local teh tarik (pull tea) with bubbles in it.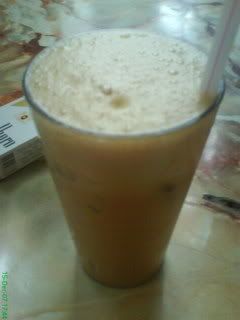 Besides the above. I attended one of my ex-class mate wedding. At one point of my high school days I used to hang out with him as well. His name is Ricardo.
Like the old days. Certain things about us , we havent changed still. We are all doing relatively well in our own ways. Some lawyers some doctors, some earning US dollars some are working for big company earning decent income.
We were the last table to "yum seng" and the last table to leave. We drank beer,liquor, and wine. We replayed our happy birthday bash up on each of us. All drunk and catching up on old times.
One of our friend were generous enough to buy each one of us a cuban cigar. We held our cigars drinking liquor and cracking jokes away. We might have changed in our maturity , looks, dressing , the things we buy, we wear or even the way we communciate. But i still felt that we never changed in certain ways.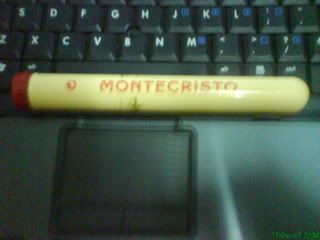 Cuban cigar.
After countless rounds of bottoms up, most of us were drunk. We still cracking jokes outside the ballroom. Before each left we gave each other hugs and exchange numbers. We vowed to organise/revive the kensettian gathering like we used to. I guess we stop that after being busy with work, girl friends/wives. We even joke that after marriage gathering the next gathering we have are in funerals and some even joke how they want their ashes to be sprinkled away.